What we offer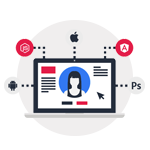 Web Development
Website enhances your business growth. Don't worry, we will develop the best website with modern design to boost your business.
Mobile Development
Mobile apps are capable of driving a billion dollar business and our task is to create a resourceful one.
UX/UI Design
Our design team will take all the necessary steps to bring the convenience and excitement to your users.
Startups
Do you have a great idea to run on app-based revenue? We are your trusted technology partner to make it happen.
Enterprise
VietBrilliant is a software development company, we are happy to assist you to build innovative software products from the scratch.
Offer high-class software solutions
Continuous innovations are the key to business' development. We commit heartily to the growth of your business as we create engaging user experience, scale your business through the most advanced solutions and strengthen the bonds between you and your customers.
What makes VietBrilliant Labs your
trusted business partner?
You know your business
You have the next billion-dollar Mobile App ideas? Why not make them grow NOW?
We know software development
Our leadership team with more than 17 years of experience in software development.
Together we build great things
We will start from your billion-dollar idea and deliver world-class quality products.
What our clients say
Their professionalism, communications, speed and creativity made the whole process of creating our mobile apps in iOS and Android easy. I would recommend their services to anyone.
Minh Vu
General Manager
at Tho Ngoc Kindergarten System
I really like the idea of their process is no process because their team knows how to make things done perfectly. Their engineering team has good communication, clarify requirements carefully and consistently delivery good quality of product.
Carlton Tiamson
Techincal Director
at TNC Group, LLC
I've worked with VietBrilliant Labs on building our e-Commerce website, they consult and propose every single items in detail that makes our clients to review product and buy easily as well as managing orders and products. I like their attitude of service and careful approach.
Phuong Nguyen
Director
at MyNgheViet
I just have idea of creating software to manage our business effectively, VietBrilliant surely is a technology partner to trust.
Lien Ho
President
at TFA Kindergarten System